How it all started
This is the story of Melinda's Backups. The support organisation and official fan club for Melinda Doolittle, the third place finisher on American Idol Season 6, that I helped to found.
During the Show
I first became involved with Melinda Doolittle when I heard her audition on American Idol in 2007. As the season progressed more and more like minded people with a similar age and background as myself became fans and we congregated on the American Idol message forum. we called ourselves Melinda's Backups in recognition of the fact that she had been a backup singer backing up others, but now she was the front runner and we were there to be her backups.
I recently found videos of her performances on Americal Idol and uploaded them to youtube. As a convenience they are embedded further down this page
But as the show went on we started facing abuse from fans of other contestants and decided we would have find another place to meet. We initially found a site run by a young lad who seemed to have a vague connection to Melinda. However he started making demands of us which as much older adults we felt were not right and we eventually decided to start our own site.
Setting up on our own
One of members bought the domain name, and we rented a slot on a shared hosting server and I, along with a friend of another member who had experience with the software that we planned to use, set up a forum. Another member designed the logo.
We spread the word that at a given time the site would go live and we waited with bated breath to see if anyone would come. But come the did - not just a few but several hundred.
The four elements of our logo (shown at the head of the page ) describe us best: The tiger represents the first gift we, as a group, sent Melinda; the clef represents our support to her musical career; the world, represents how, through the internet Melinda's Backups have become one global family; and the hands are those that we lend in support to others less fortunate than ourselves as we support Melinda in her humanitarian ideals.
I made the video below in the summer of 2007 as part of a competition. I reproduce it here because it helps to explain Melinda's Backups early beginings.
I have to apologise to Phil Rulloda who designed the bouquet for Melinda on the finale night. I mistakenly called him Paul.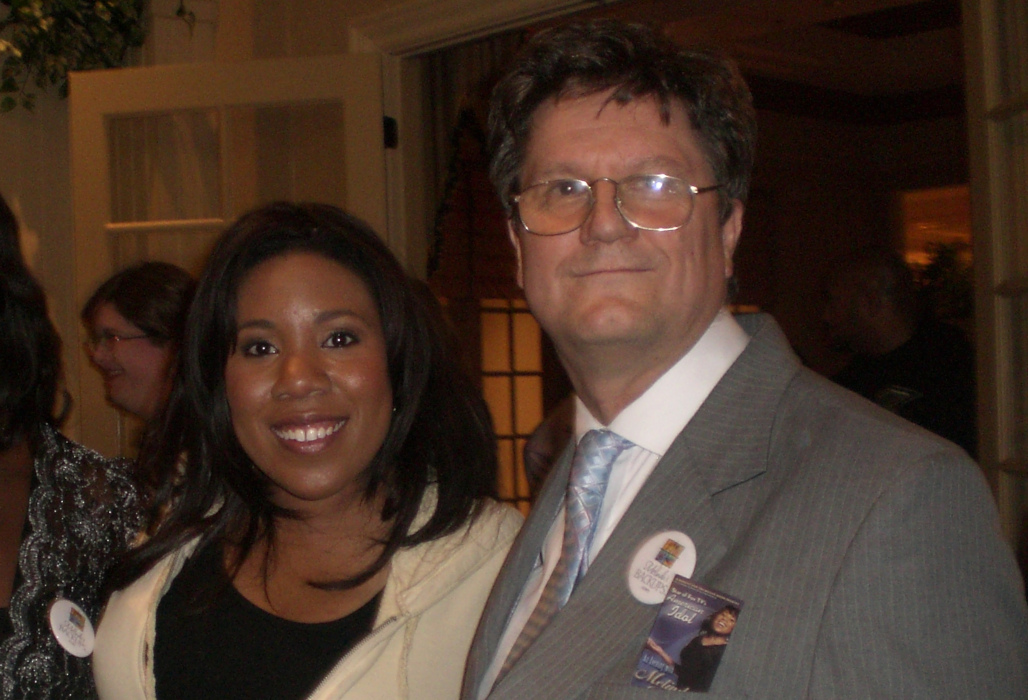 One of her first public performances after the end of American Idol was in her local theatre in Franklin, Tennessee, USA. The Backups decided it would be great to host a party their and invited those of its members who could to come. I was one of the members who went. Melinda joined as at that party and I got to meet her in Person.
Shari's Story
The following is the early history of the backups written by "Shari", a gifted young writer and one of Melinda's Backups, who wanted to use her talent to write the story. It is not my style of writing – but it does faithfully represent the early history.
How it all began …
For us it started on February 2007, after this power-house voice took over the audition process on the US singing competition of American Idol. Her name: Melinda Doolittle, a shy and very scared backup singer who just happened to audition that year after her friends convinced her to do so. But there are no coincidences in life, Melinda was destined to be more, and we saw that. Her incredible singing voice and humble spirit won our hearts and the heart of the hardest judge of all, Simon Cowell, who called her "little tiger" after one of her most memorable performances.
The fans following her every step each week adopted the name of Melinda's Backups™, as she was now at the front of the stage and a front runner too and we were backing her up.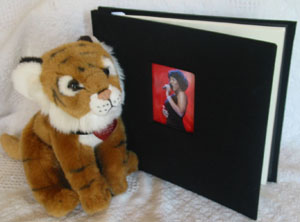 As a gift during the competition, and following Simon's remark, Melinda's Backups™ sent her a stuffed Tiger. "We knew the Tiger had arrived at the studios, but did not know whether Melinda had received it personally". However, on Melinda's homecoming trip in May, pictures emerged of her and the Tiger. Melinda subsequently revealed that the little Tiger accompanied her on the tour bus (for the 2007 summer post Idol tour) in her sleeping compartment. The tiger is now a meaningful symbol for Melinda's Backups™ and is part of our Logo.
The next Backups' effort was to send her a large floral arrangement at the finale show to which her response on an interview was: "I've never seen flowers like that in my life."
The Live Tour
During the AI Live Tour, Melinda's Backups™ set on a mission to send Melinda flowers at every American Idol Live Tour concert. (She kindly took pictures and posted them on her myspace). What made this effort even more meaningful was the donation of bed nets to help fight malaria, along with the flowers. Melinda is an active supporter of this cause through Malaria No More (see Melinda in Africa). As a show of support for Melinda and this wonderful charity, Melinda's Backups™ have spearheaded efforts to encourage others to do the same. Thousands of dollars have been donated to Malaria No More on behalf of Melinda Doolittle to save thousands of lives from this deadly disease.
Melinda Doolittle has gained fans from over 30 countries. And this is only the beginning. Melinda's Backups™ will be backing her up through her promising music career and humanitarian efforts.
I love you! I love you! I love you!

You all have to be the most amazing people on the entire planet! I have never experienced so many wonderful people all at the same time. Every time I log onto the Internet, I see something special the Backups have done, said, planned… you name it. I could not ask for better representation. You all represent God well, which represents me well. I just pray that I continue to represent you all well. Thank you for staying above board on all the crazy topics that go on out there in blogs and posts and stuff like that. I feel so honored to have such an amazing backbone out there supporting me. I just want you guys to know that none of it goes unnoticed…and although I can't respond to each of you like I want to right now, know that I pray for you daily and I am sooooo grateful.

Thank you all!!!

Did I mention…I love you?

Love,

Melinda

Ephesians 3:20
Melinda's First Solo Concert
As the American Idol tour drew to a close, the curtain was poised to rise on the next chapter of Melinda's career – and the Backups were proud to be there every step of the way. It has been our pleasure to support Melinda in her musical aspirations and to watch as her career continues to flourish. Melinda's talent and dedication took center stage in her first solo concert this past fall, held in Franklin, Tennessee in November of 2007. Held at the Boiler Room, the hour and a half long concert featured full length performances of songs that Melinda sang on Idol, as well as a skit and a stunning rendition of Amazing Grace.
Melinda's first solo concert wasn't only a milestone for her, but for Melinda's Backups™, as well. It was a pleasure for many of the Backups to be able to join Melinda in Tennessee, to recognize her accomplishments from the past year and to celebrate what we knew was only the beginning of a long, successful, and most special career for the talented singer. Traveling from places as far away as Hawaii and England, dozens of the Backups joined Melinda in Tennessee for the weekend. As always, Melinda demonstrated her kindness and sincerity when she made a special point to wear the charm bracelet, throughout the concert, that the Backups had purchased for her birthday. It was a true honor for the Backups in attendance to see the singer wearing the bracelet that they had painstakingly designed, with each charm on the bracelet representing something very special and unique from Melinda's journey thus far. But Melinda's genuine appreciation for and dedication to her supporters didn't stop with her wearing the bracelet…
When it became clear that so many of the Backups were traveling to Tennessee for the concert, one of our Leadership Team members, Donna, took it upon herself to organize a get-together for everyone to attend after the concert. Many of the other Backups worked with Donna to plan and organize an evening that would be an incredibly memorable one not only for all of Melinda's supporters, but for Melinda herself. When Melinda heard about the get-together, she quickly made it known that she too wanted to attend. Melinda is a shining star like no other, and this proved that yet again. Melinda doesn't treat the Backups like her fans; she treats the Backups like her supporters and like her friends. She never hesitates to go out of her way, to go above and beyond to create incredibly special experiences and treasured memories for every one of her Backups. It has been said that "some people make the world special just by being in it," and the Backups truly believe that Melinda is one of those people. The concert and get-together in Franklin only reinforced that. Perhaps that can be evidenced best by Melinda's own words…
What a way to come full circle for this year of new beginnings … I had to come on here and just say thank you guys so much! I loved every bit of the experience! Thank you for making last night a night I will always remember.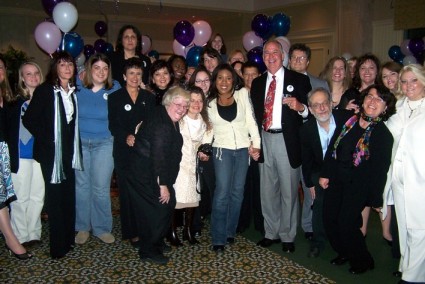 The first Christmas
As the year drew to a close and the 2007 holiday season quickly approached, the Backups wanted to do something to acknowledge Melinda's ongoing dedication to and kindness towards us. After careful consideration and deliberation, we decided on a project which we hoped would show Melinda not only how much we admire her as an artist, but as a person. Melinda has spent a countless amount of time working to make this world a better place. Her genuine desire to help others has been a true inspiration, and we wanted her Christmas gift to reflect that. Along with an engraved glass ornament, the Melinda's Backups™ decided to give Melinda another very special gift, a gift to show her how her own selfless acts have inspired us to give back as well, to give of ourselves in an effort to help those who need it the most. Melinda's own charitable work and her kindness have reminded the Backups that it's time to think not only with our heads, but with our hearts. She has shown us that together we can make a difference … and together we will make a difference. To that end, the Backups wanted Melinda's holiday gift to reflect that sense of giving and of helping others.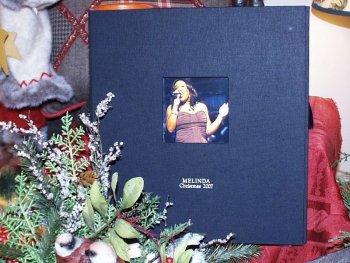 The Backups who participated in this part of the gift pledged to volunteer their time working for a charity in their local communities, thus bringing the spirit of the season home to many different cities not only throughout the country, but throughout the world. The Backups' volunteering efforts took many forms, including but not limited to: donating to the Salvation Army; preparing food for a local Ronald McDonald house; donating holiday gifts to a family from a local church; participating in an Angel Tree project and purchasing gifts for children in need; working with the Meals on Wheels association to deliver food to deserving families; donating to the Make-A-Wish Foundation; and working with the Adopt-A-Family program. The participating Backups wrote letters to Melinda explaining their charitable endeavors and how she had been the one to inspire them to help others at this most special time of year. These letters were compiled into a scrapbook which was delivered to Melinda, along with the ornament, before the last show of her 2007 Christmas tour with Michael W. Smith.
It truly was an honor for the Backups to be able to give back to Melinda in such a special way, to thank her for all she has done not only for us, but for so many people around the world. To say that we were all deeply touched by Melinda's response, posted below, would be an understatement.
To: The most phenomenal people I have ever had the pleasure of encountering

From: The most grateful person in the world

I have no idea where to start ₀

First of all, I cannot say thank you enough for making the best year of my life. I never imagined something like this would happen and that I would get the chance to share it with such amazing people. I actually had no idea that at the end of this year, I would be sitting here wondering how it happened that I fell head over heels in love with a group of people. I didn't even know that was possible. I knew you guys were light years beyond any other fan club (by the way, we need to come up with a different name than that, because that does not do you all justice), but I am absolutely amazed at your ability to still surprise me with your ideas and your hearts. This Christmas is no exception … as a matter of fact, it proves my point that you all are angels sent from up above. I cannot get over the Christmas gifts you all gave to me. The IPod Touch is amazing! I love the messages on there. That was an awesome idea. It makes me not want to add any songs and just listen to you sweethearts the whole time. The star was beautiful. We might be here all day if I named everything, but thank you, thank you, thank you. Now on to the real kicker … the scrapbook with the stories of how you all changed lives this Christmas. I read every single one and just kept on crying. I don't know if you remember Oprah's "Wildest Dreams" segment last year, but it was a time where she made people's dreams come true. I remember watching that and crying out of joy every time someone got what they really needed or wanted. Well, I prayed right then and there for God to give me the resources to begin to make people's dreams come true and to really touch lives. When I prayed, I was thinking I was praying for finances … little did I know, I was actually praying for people like you to be my hands and my heart to people that really needed it. That is such a huge honor! I could not have asked for a better gift. You have no idea how much that touched me.

So, thank you for being an answer to prayer, thank you for loving on me when I needed it most and thank you for showing me that absolutely nothing is impossible with God. I love you so much!!!
Marathon
Inspired by Melinda's continued support of the Malaria No More charity and her dedication to making this world a better place, the Backups banded together to participate in the Nashville Country Music Marathon in April 2008. One of Melinda's Backups™, Sara, came up with the idea and encouraged a team of runners to join her in Nashville. As momentum grew, those who were unable to run joined the cheerleading squad and both groups put a countless amount of time and effort into raising money for the very worthy cause.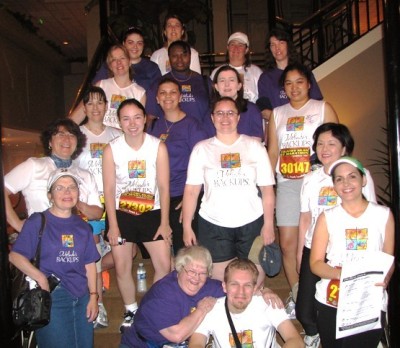 The marathon participants began training five months before the race, working hard to prepare for either the half or full marathon in which they chose to take part. The group of runners and cheerleaders supported each other daily, sharing training advice and schedules, information about participating in the marathon, and words of both inspiration and motivation. The training process was extensive and sometimes demanding, but the Backups, both those participating in the marathon and those who acted as cheerleaders, all served to encourage and support one another. Through both sponsorships and donations collected, the Backups team was able to raise over $9000 for Malaria No More, as well as to raise awareness of the charity and the very important work that it does.
While serving primarily as a means of supporting Melinda and raising money for a charity close to her heart, participating in the marathon also afforded many of the Backups the opportunity to join together and spend time with one another in person. It has been said quite frequently that the Backups aren't simply a group of fans, but rather a family … and joining together in Nashville was like coming home to a most special family, one filled with so much heart. Melinda herself is such a very important and special part of the Backups family, and it was a joy to have her join us in Nashville for the event. Moved by the Backups' determination and diligence, Melinda made it a priority to be in Tennessee to cheer on her supporters, arriving in Nashville the night before the race and joining both the runners and the cheerleaders for their pre-race dinner. She presented each participant with a token of her appreciation, thanking everyone for "going the extra mile." The truly special gathering served as a source of inspiration for all the Backups and is an experience that will be treasured forever.
In addition to spending time with the Backups the night before the marathon, Melinda proudly stood on the streets of Nashville during Saturday's race, cheering on the runners and serving as a source of encouragement for them all.
On the Cruise
It was time to set sail for many of the Backups when they had the chance to join Melinda, as well as fellow performers Michael W. Smith, Amy Grant, and the Sheasby's, on an eight-day long cruise in July 2008. Designed to both spotlight the singers' talents and give them the opportunity to interact with their fans, the cruise was a wonderful opportunity for the Backups to once again show our support for Melinda. The cruise kicked off with a "Welcome Aboard" concert, featuring four songs by Melinda. The talented singer also performed during three additional concerts, including one where she had the opportunity to sing eight songs, much to the delight of the Backups. However, the cruise didn't just feature concerts; it also gave the Backups the chance to spend quality time with Melinda. Activities like air hockey and a dance party brought about not only fun and laughter, but also the chance for Melinda and the Backups to enjoy each other's company. The activities didn't end on the cruise ship itself … passengers had the opportunity to enjoy places like Cozumel, Grand Cayman, and Jamaica. Excursions off the cruise ship also proved to be an exciting way for the Backups to further bond notonly with Melinda, but with each other, as well.
For the Backups lucky enough to be aboard for this journey of a lifetime, it was a truly meaningful experience to treasure always. One of Melinda's Backups, Holly, summed up the special trip and the feelings of all the Backups who attended.
"During the time together, I was able to get closer to the Backups … and to Melinda," she said. "I made memories that will always be with me and friends that I will always hold dear to my heart." She went on to explain just how close the Backups are, saying "our theme song at all the events is 'We Are Family.'"
Music Jam
Although the Backups had to say "bon voyage" to the cruise at the end of the eight days, there was another exciting event on the horizon: the Music Jam in Nashville, TN. Held on August 31st, 2008, the event featured performances by a myriad of singers, including Melinda. Always happy for an opportunity to spend time together while supporting Melinda, many of the Backups decided to make the trip to Nashville for the event. They came by plane and they came by car, and everyone had an unforgettable and incredibly special weekend. Many of the Backups went to Nashville several days in advance of the concert, taking advantage of the time to catch up with old friends and to meet new ones. After spending several days enjoying everyone's company, the Backups were beyond excited to see Melinda perform on the 31st. Always known for their enthusiasm, the Backups were first in line, happy to arrive early and show their never-ending support for Melinda! Their devotion was made clear to everyone attending, excited smiles on the Backups' faces as they were in the front row for the concert! The Backups were thrilled to cheer for Melinda as she performed her songs, including several from her upcoming debut album. Following the concert, Melinda joined the Backups for a special dinner, demonstrating yet again that she doesn't treat her supporters as fans, but rather like friends and family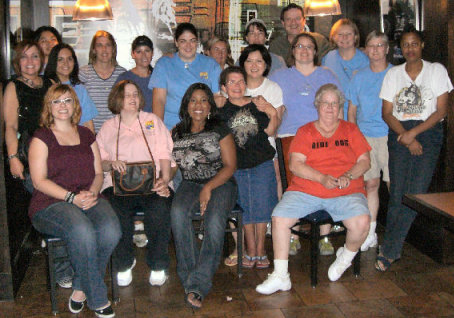 Not only did the talented performer spend time with the Backups after her concert, but during the next day, as well. This weekend was proof yet again not only of how far above and beyond Melinda always goes for the Backups, but also of how she makes the experience truly meaningful for everyone involved. Jena, one of Melinda's Backups who met the singer for the first time at Music Jam, expressed her thoughts, perfectly explaining not only how special Melinda is, but how special a group of people the Backups are.
"The weekend of Music Jam was the most amazing three days of my life," she said. "I met the most incredible group of fun, compassionate, and loving people, all of whom bring their unique talents and personalities into the backups' family. I attended a concert from the most phenomenal singer of our time, and to top it all off, I was so blessed to meet Melinda and sit next to her at dinner. She is just magical in person! Melinda has inspired so much good in the world, and she has opened countless doors for so many people, simply with her gentle and sincere way of being. Music Jam is one of the highlights of my life, and it's a weekend I will never forget."
It has been a joy for the Backups to support Melinda in both her musical aspirations and her charitable endeavors. We are so grateful to Melinda for all she has done for us, for always taking the time to go above and beyond … and the feeling is mutual. Both Melinda herself and her best friend Kelley spoke about the Backups, enthusiasm in their voices as they discussed the extraordinary relationship between Melinda and her supporters.
"We love the Backups! You guys are amazing! You're the best!" Kelley said, a bright smile on her face. Melinda agreed, genuine emotion in her voice as she talked about the very special bond between herself and her Backups.
"I've never known a whole group to get someone's heart so well," she said earnestly.
The same can be said of Melinda. It is rare for a celebrity to touch the hearts of so many, but that's exactly what Melinda does, time and again. She goes out of her way to provide all of her Backups with special experiences and moments to treasure, and we look forward to continuing to do the same for her. The future is as bright as a shining star for this very special shining superstar, and we look forward to continuing to support Melinda in whatever way we can.
The following 12 years …
Although the initial very busy start that Shari wrote about above didn't keep at quite the initial pace, the backups continued to meet on the forum built right from the start to be the Backups home.
At one point I was close to being the president of the backups as explained in this post in which Melinda Sings A Song for Me
The highlight of every year, held during the American Football season from the initial NFL rounds through to the Superbowl, was a results picking competition to see who could get the highest score. Initially the work was done by the adminsitrator using spreadsheets, but after the first year I wrote Software to make adminstration of the competition much easier and that has been used every year since.
Is this the end?
I, personally, have been hosting the backups web site on a cloud server that is currently also running this site. Sadly however the traffic (except during the football season) consisted almost exclusively of spammers, and I could no longer afford the resources that the site and dealing with the spammers took up. So in April 2020 the forum closed and all that remains is a single page web page to inform people that that has happened.
A decision has not yet been made as to whether a limited version of the site hosting just the Football Competition will open in the autumn. Any one interested should visit melindasbackups.com and see.
American Idol Performances
Here are Melinda Doolittle's performances on American Idol, starting at the auditions and ending at the finale of the show.