Is This where Slaiman And Kate Are Living?
From my previous posts here and here you can see that I was intruiged as to where they were living when Slaiman lived in what I assumed was Indooroopilly. I had been trying to uncover where his house was and I still don't really understand the evidence.
Of course in November 2020, Slaiman and Kate moved out of that house and back to the modern apartment that Slaiman was previously renting back in 2015 when his channel first took off after he started doing the prank videos with Kate. Only this time he had bought it. I was intrigued as to where this might be, and for a long time had thought it was somewhere in James Street as Kate had tagged some pictures in Instagram with it. I suspect now this was more that it was views from inside the market at James Street.
I had remembered Slaiman and Kate talking about their first kiss, and how Slaiman had taken Kate up to a pool where they had stayed until it was closing and he hadn't kissed her, before going down to her car and then even then it took Kate two tries to get him to do it.
But then the other day I saw this video
The ULTIMATE Dilemma PRANK
Edit 25 July 2021 - sadly this video has been moved to private by Slaiman - maybe due to me, who knows. However I do have two screen shots of the two distinctive buildings shown in that video near the end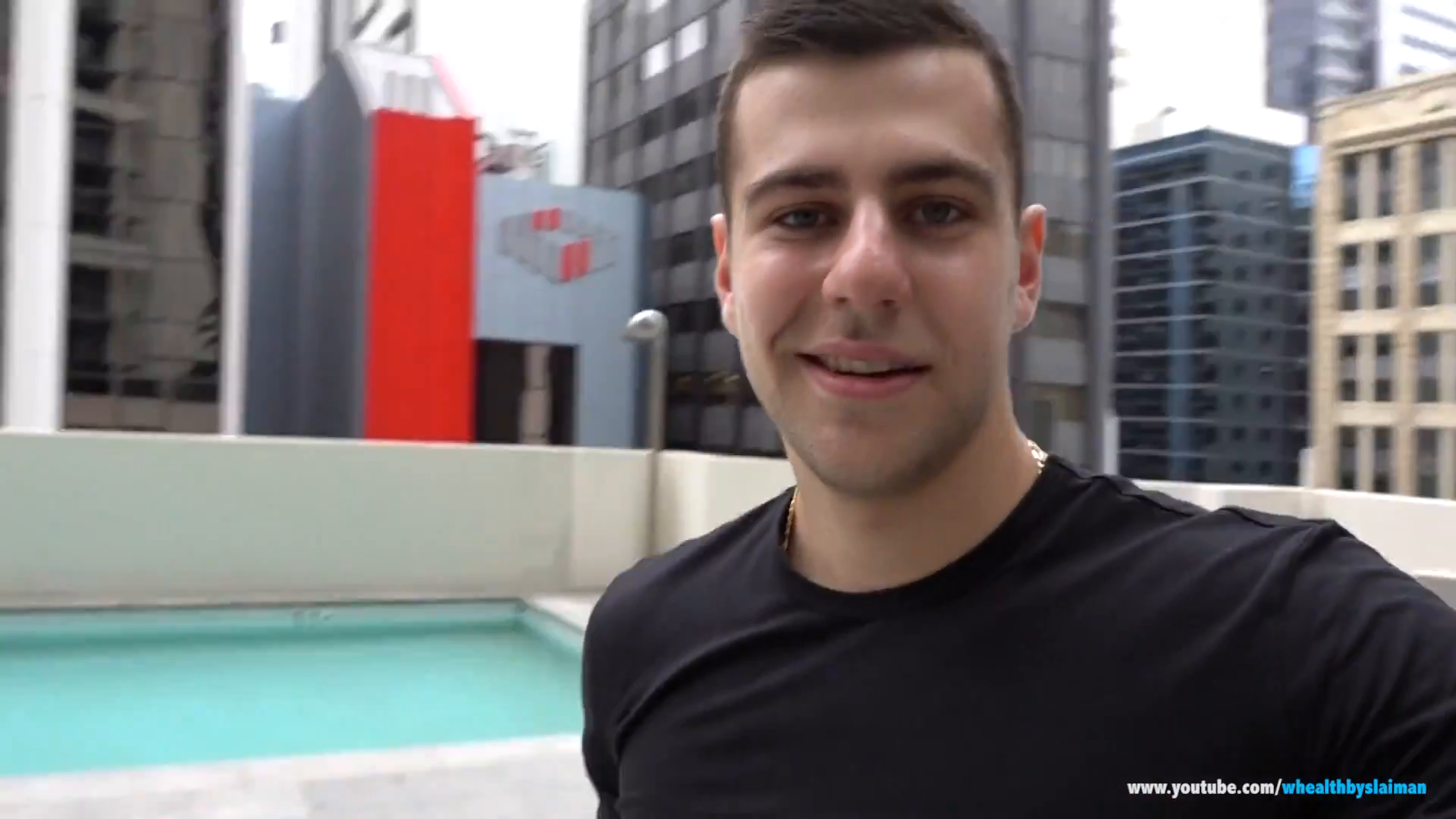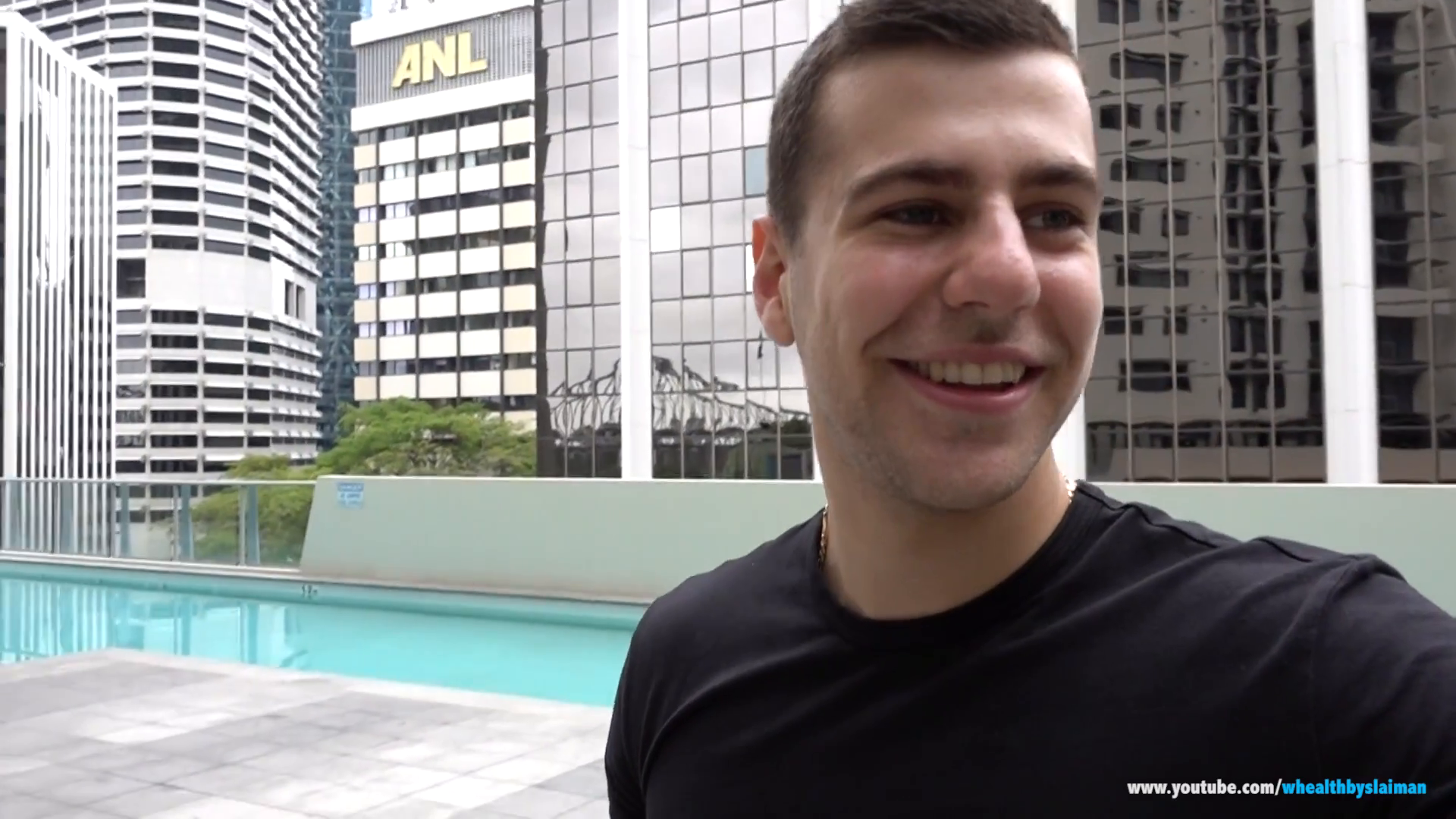 What is clearly visible is
The are on a rooftop with a pool and I was reminded of that first kiss by it.
There is a distinctive red building with a logo on the right of our view.
There is the tall building with ANL in big letters to the left.
So I immediately considered that maybe I had found the place.
It does not take much seaching with street view in the centre of Brisbane to locate that building as 420 Queens Street.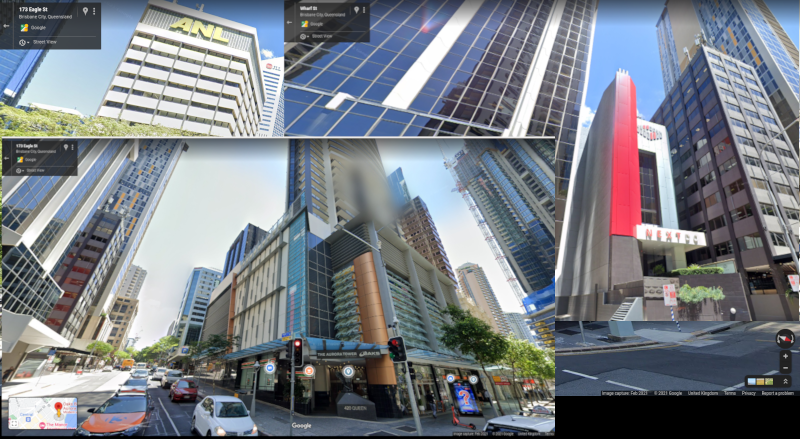 The big question is - is this where Slaiman was living. I have gathered some evidence to make me think it is, or if not next door.
UPDATE 6 July 2021 - I think I can precisely locate it to one of two apartments, and on balance from the evidence I present below - I think it is probably the lower of the two apartments. I am not sure if these are still 420 Queens Street or 415 Queens Street.
Firstly; in this video where Kate pretended to sell Slaiman's Car, Mikey is about to leave the garage
This is just one example of many of the videos from the garage, but perhaps gives the best view. I took a snapshot from this video and compared it with the view in the opposite directrion from Google Street View.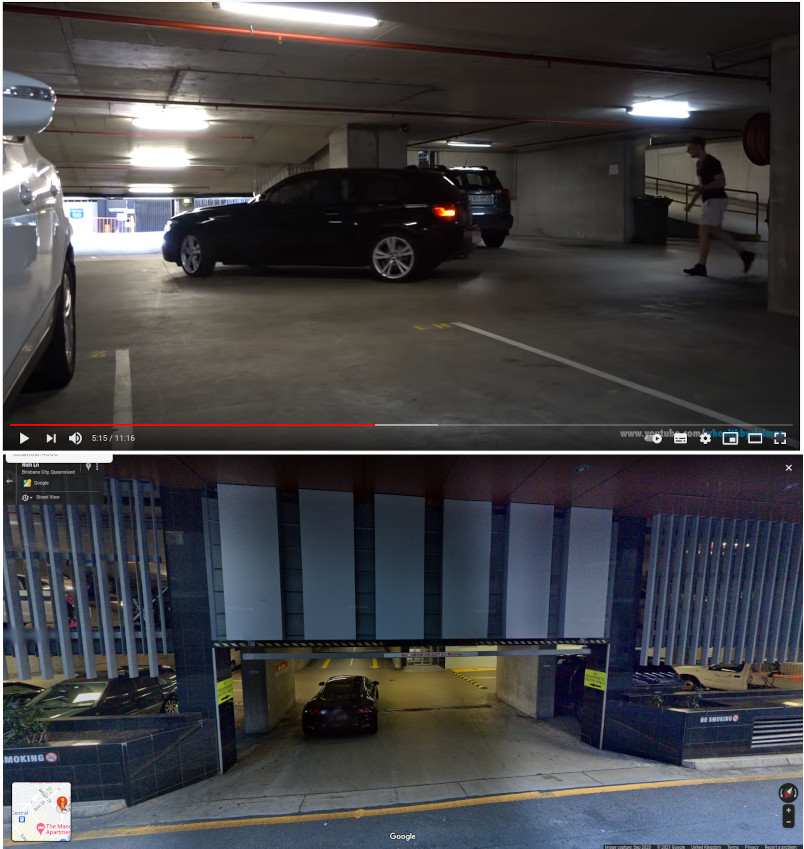 (you can also look the otherway in Google Street View and get what appears to be the same picture - but since in this video there looks to be a temporary hoarding up, its not definitive)
Secondly; from a number of the videos the route from the garage to the apartment puts the windows of the apartment on Queen Street. You get occassional glimpses of what looks like trees in a courtyard by what I have in the past thought might have been a church. But if you look at what you can see in Street View (at ground level) is this.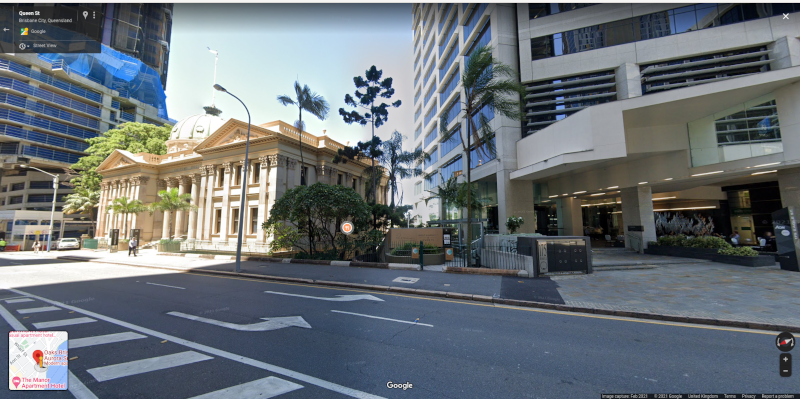 I think that is a match against the glimpses.
Thirdly; There is a statement Slaiman made in the video where he showed Kate, that it was him behind her winning the poem competition, where Kate submitted a poem about her dog.
He mentions the radio statio was called "Hit 42.0" and wondered why Kate hadn't drawn a conclusion it might be fake. I thought that might be his house number in Indooroopilly, but I am now wondering if it was a reference to his old apartment, given that it was at about the time when it first went on sale and he told Kate about it to get her reaction.
Forthly, I found this picture of one of the apartments in that tower block going on sale. Inside is a picture of the kitchen.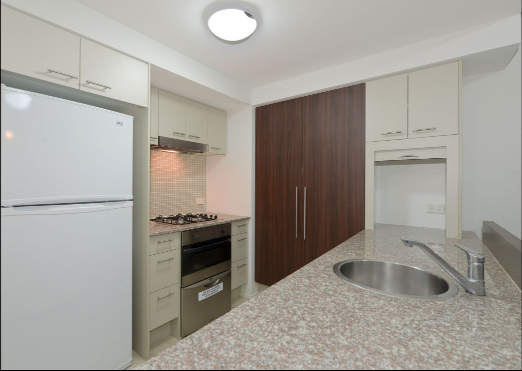 It is exactly like the one in Slaiman and Kate's kitchen. I think it is this last piece of evidence that really convinces me that this is the place.
UPDATE 6th July 2021 - I came across another video "My Girlfriend made a VIDEO and I UPLOADED it PRANK!" and the evidence from that makes me really believe I can locate the apartment to one of two - and on balance the lower one of the two. Firstly the video - look through the windows, opened slightly.
The start point shows the trees and an office building, and if you look at 9:17 into the video he approaches the window with the camera and the building opposite is very clearly show. Here is the video
And here are some pictures. Firstly two stills from the video put together with equivalent views outside the building from Google Maps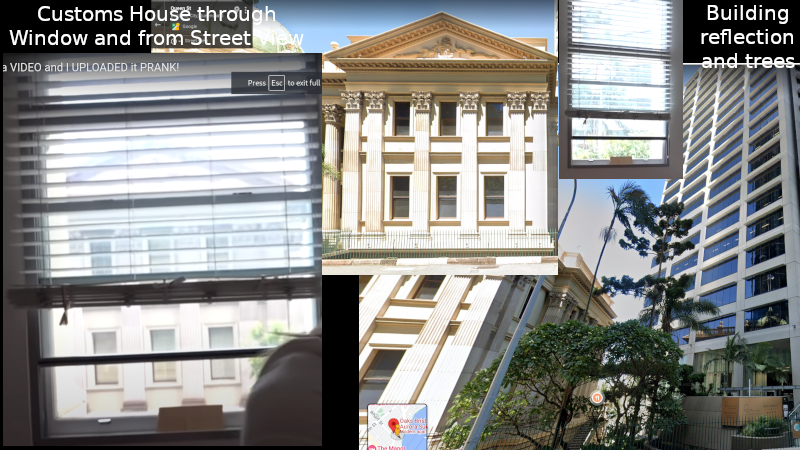 And the probable view from the outside of Slaiman and Kates apartment, where the windows match precisely what we can see from the inside. From the comparisons of the stills above I believe it is probably the lower floor of the two possible
I believe this is where Slaiman and Kate are living.