I have recently taken delivery of my new Baby Grand Piano, a lovely Feurich 162. This is the story about how it came about.
Context
This is the first post where I have mentioned a piano. I think it only fair to give the post some context. I was about 5 when my father appeared to go out and come home with a piano. To be honest I don't really remember what happened but my father carried a reputation that I was aware of when I was older of going out with no particular plan and comming back with a major purchase. The one story I always heard over and over again is that he went out to buy some Kippers and came back with a Car. To be fair we needed a new car (I remember looking through a rust hole from my position in the back seat and seeing the rear wheel going round - not something that would happen today, but this was the early 1950s, before the introduction of the MOT) but it did create a reputation. The Piano might have been the same idea - but I suspect there was more thought into that. It was an upright, a Knight K10. From what I know of pianos today, that was a high quality make.
I remember being excited about learning to play, and initially my father was to teach me. But it didn't last, I think he was just too busy, and in the end a local piano teacher was engaged. She would come to our house and give me lessons. I don't know why but at some point between when I was 5 and when I was 10 I was changed to a much more sophisticated teacher. She was a member of the Royal Academy of Music, we (my siblings and I) had to walk to her house (about 30 minutes away) where she taught in a large downstairs room with Grand Piano. She was very strict and would write on our music in a fountain pen with green ink.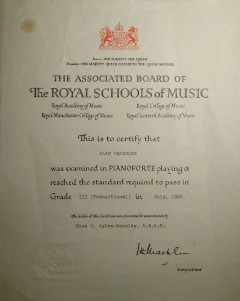 But despite all the money my parents were obviously paying to get me to play the piano, I never practiced and all I could manage by the time I came to give up was ABRSM Grade 3.
In the early 1990s my father offered the piano to me, and I accepted the offer and installed it in our front room. But still I didn't play it, although my younger daughter did and she took lessons. So when she moved into a big house with room for a piano she took it, as I had no need for it.
My Journey Over the Past Few Years
In September 2017 I suddenly had the urge to play the piano. I suppose it was the fact that I had just retired and had more spare time, but I had the urge to play. Clearly I would need to buy a piano, and did a bit of a search to see what to buy. After trying a few I settled on a CASIO AP 460 and placed my order.
I also decided I ought to get myself a piano teacher and explored the options. I soon found Natalie - qualified to teach to ABRSM Grade 8, but with some Jazz experience too (I have a hankering after being able to play some Jazz). Unsure of requirements we settled on an hour every two weeks. I set about learning the 1st Movement of Beethoven's Moonlight Sonata.
Fairly quickly I realised two things :-
An hour every two weeks wasn't enough for piano lessons. My teacher would set a task in the lesson and within a few days I had sorted the issue and wanted more. It was frustrating having to wait.
I wanted a better piano. There was great difficulty (due to a short pivot point on the keys) in playing close to the fallboard. This was something I had to do to play the Moonlight Sonata, but also pushing the keys into the keybed felt like pushing concrete blocks. Absolutely no give.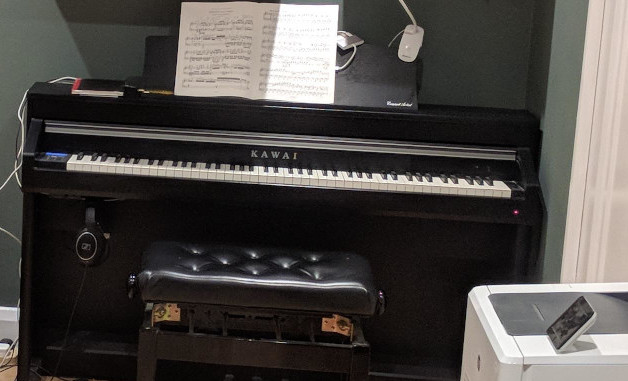 So I fixed both of these, by upping my lesson to an hour a week, and by trading in my Casio for a Kawai CA 67. The Kawai CA67 is a lovely piano. The action feels really good and the sound is fantastic as long as its through headphones.
Every 6 weeks or so we would visit my daughter and with my new found interest in pianos I would sit down and play the old Knight. As first I didn't like the upright, much prefering my CA67. But slowly, as my fingers and my soul were becoming more sensitive, I realised that there is something personal about playing an acoustic piano that just isn't there with a digital piano and I started to wish for an acoustic piano for myself.
But …
… my life is full of hobbies that last two years before fizzling out. I wanted to be sure that the piano wasn't one of those and I decided to wait - initially setting myself a timescale of 3 years since starting. I also wanted a Grand Piano and that was going to be a significant investment.
The Search for a Piano
We have been having our house re-decorated, including the room that would fit the new Grand Piano. A quick check on my finances, and I realised a perfect opportunity to have the piano delivered would be after the room was re-decorated. Not quite the full 3 years but more than 2.5 years.
So I set about determining dimensions and making a short list. I came to the conclusion that 170cm long was the longest that could fit into the space I had, so it would have to be a baby grand. Also the budget would not stretch to a handmade German make, so I had to settle for something more modest.
In the end I narrowed it down to:-
Kawai GL 10
Kawai GL 30
Rutmuller Studio R8
Feurich Dynamic I 162
Venables Academy-168
One Saturday I decided to see if I could audition the top 4 on the list. The Venables was talked about on the Piano World Forums, of which I am a member, but since it was down near Southampton, it would require a special journey. I was expecting to like the Kawai GL30 the most.
The first piano I tried with the Kawai GL30, and I was so disappointed. I was asking myself whether I had made a mistake in wanting an acoustic piano at all. The GL30 felt lifeless to me, with none of the soul I could feel when I visited by daughter.
I also tried the GL10, certainly not any better.
Fortunately the same store also had a Feurich 162 and I tried that, not expecting much. I was blown away. A light touch, responsive to my playing, seemed perfect. Nevertheless I had others to try.
The I had to go to a different store to try the Rutmuller. But as soon as I sat down and tried it, the piano just felt cheap and nasty. I was not impressed.
I almost didn't go to try the Venables 168 given how impressed I was with the Feurich, but in the end I did.
That too was a beautiful piano, and Will Venables voiced the model in stock for me whilst I was there. It sounded perfect. But it felt slightly strange which I couldn't put my finger on at the time. But once I returned home I realised that the height of the piano was higher than the norm and it would be quite a tilt of the neck for me to read the music and that little fact just swung the balance for me in terms of the Feurich.
So I placed my order.
On the 19th March 2020 it was delivered to me! Just in time to have it before the lockdown!