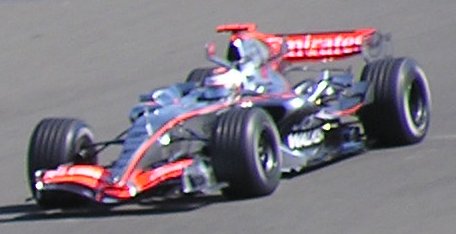 On Friday, McLaren announced that Lewis Hamilton would be driving in Formula 1 next year, driving alongside Fernando Alonso. Having seen Lewis Hamilton drive at the British Grand Prix earlier in the year, and then having seen the ITV coverage of his recovery from a spin in Turkey I have been looking forward to this announcement for some time.
It was unclear whether McLaren would announce Hamilton as a full driver, or whether he would get a testing role first. In the event, he has graduated to full driver but this has meant that there is now some people who wonder whether this elevation to full driver immediately was a mistake.
The argument goes that as Hamilton is unfamiliar with a Formula 1 car his performance will not be good as will be expected of him by a overhyping British media. Putting him alongside Alonso will just highlight those shortcomings.
I actually think that the situation is worse than that. It is clear that since Adrian Newey left, McLaren have gone downhill, and instead of being one of the three leading cars, it has fallen back into the category of Honda, and perhaps the surprise of next season BMW.
Nevertheless I think those that express the view that this will destroy Hamilton miss his ability to never give up. It is, I believe, one of those characteristics that is essential in an ultimate world champion. Just think back to two particular occassions in last season with Michael Schumacher to illustrate what I mean.
Firstly, Monaco, when due to that "unfortunate" incident in practice he got relegated to the back of the grid. Monaco is supposed to be a place where you cannot overtake, but in the event Michael came 5th, ahead of Fisichella in the championship winning Renault. He never gave up.
Or the last race of the season at Interlagos, where despite saying his championship was over he still tried. He suffered a puncture whilst overtaking Fisichella and after getting it fixed ended up last. Nevertheless, he charged from the back and finished in fourth place (again ahead of Fisichella).
I think Lewis Hamilton has that very same ability. I have watched his fight back in Turkey and his determination to not give up. But its not only that, its the fact that when under pressure and with the impossible to do, he just gets better. That is the mark of a champion. So despite all the setbacks that motor racing (especially F1) will inevitably throw at a him I think he will continue to work away at getting better. And if the pressure is really there I think he will get better still.
So I think Ron Dennis made the right decision